Tadalafil (brand name Cialis®) and sildenafil (brand name Viagra®) are two of the most popular medications used to combat erectile dysfunction.
While they work by the same mechanism of action, have similar common side effects, and have a nearly identical success rates, there are a few key differences between tadalafil and Viagra.
Which is better for you – tadalafil vs Viagra – all depends on some personal preferences.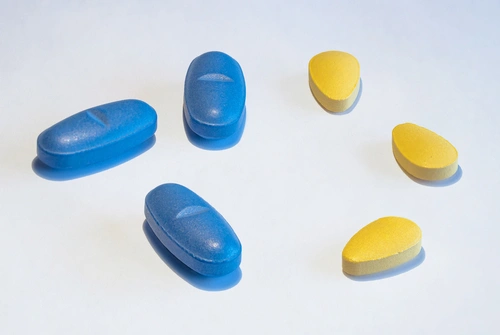 What Are the Similarities Between Tadalafil And Viagra?
Tadalafil and Viagra are both capable of managing erectile dysfunction, and the differences largely boil down to personal preference.
How Viagra and Tadalafil Work
The active ingredient in Viagra is sildenafil, which along with tadalafil is a phosphodiesterase type 5 (PDE5) inhibitor. These drugs were approved in 1998 and 2003 respectively, and they've become the most popular ED meds by a wide margin.
They both help to increase the amount of blood flowing into the soft tissues of your penis by dilating arteries and relaxing the smooth muscles located in the area.
The Side Effects
Since tadalafil and sildenafil are both PDE5 inhibitors, the common side effects of Cialis (tadalafil) and the side effects of Viagra are similar:
Headaches

Stuffy nose

Sore throat

Indigestion or upset stomach

Prolonged erection
It's important to note that side effects should only last as long as the drug remains in your system. There are a few factors that can influence this amount of time, which will be covered later.
More serious but rare side effects of tadalafil and sildenafil include the following and warrant immediate medical attention:
Dizziness

Blurred vision

Flushing in the face or body

Sudden hearing loss
The Success Rate
The rate of success for tadalafil and Viagra varies depending on the research you're looking at, but results with these medications are typically above 80% efficacy for both medications.
A few factors are at play depending on the clinical studies involved; however, it's fairly safe to conclude that neither is significantly more effective than the other.
What Are the Differences Between Tadalafil And Viagra?
Now that we've covered the important similarities between these medications, we can get into the key differences between tadalafil and Viagra.
These differences will help to answer which is better than the other for you.
When You Take It
The largest difference between the two is when you need to take the pill.
Viagra is designed to be taken about an hour before engaging in sexual activity, called "on-demand." It generally takes around 30 minutes before the drug kicks in, and it's erection-producing effects can last for four hours.
Tadalafil, by comparison, is also taken in the hour before intimacy but its effects can last for up to 36 hours. For this reason, it's sometimes called the Weekend Pill.
Additionally, tadalafil comes in a "daily" low-dose version that is taken every day to keep you "prepped" for intimacy. By taking a daily dose of tadalafil, sexual activities won't have to be planned ahead of time and can be much more spontaneous.
No other erectile dysfunction medications offer this possibility — like Viagra, the other most common ED medication Levitra® (vardenafil) is also an on-demand drug.
The Doses
There are three approved doses of Viagra: 25 mg, 50 mg, and 100 mg.
In most cases, a doctor will recommend starting out with a 50 mg dose and may suggest increasing or decreasing the dose depending on the results. It's not recommended to take more than one dose in a single day and never more than 100mg in a 24 hour period.
Tadalafil on-demand is approved in doses of 5 mg, 10 mg, and 20 mg.
For men looking to take a daily dose, tadalafil is approved at doses of 2.5 mg or 5 mg.
Potential Interactions and Impediments
One key difference is in the impact that stomach contents have on each drug.
With Viagra, heavy or fatty meals can potentially affect its efficacy. Eating a heavy meal with large amounts of fat such as meats and cheeses can impact your metabolism and alter blood flow. Viagra's label includes a warning not to eat a high-fat meal before taking it because of its impact on effectiveness.
Tadalafil doesn't have the same issue. Since tadalafil can be taken daily and still work just fine, your diet and the contents of your stomach shouldn't influence its effectiveness — both taking it on an empty stomach or having a light meal can still result in an erection with similar duration of action.
Additionally, both drugs are unsafe when combined with certain medications for cardiovascular conditions. Nitrates combined with sildenafil or tadalafil can cause a dangerous drop in blood pressure that could lead to a heart attack or stroke.
The Takeaway
Ultimately, neither tadalafil or Viagra are "better" than the other. Both are demonstrably effective at overcoming the symptoms of ED, for a strong erection.
However, tadalafil does have qualities that make it a more versatile option. Since tadalafil can be taken either as-needed or daily, and its effects last much longer, it can offer flexibility instead of planning in the hours ahead of intimacy. Also, since Viagra can be affected by your stomach contents, it can require a little more planning.
For these reasons, the few studies that have looked at tadalafil vs sildenafil suggest men and their partners prefer tadalafil when given the option between the two.
Whatever you choose, Rex MD can help, with popular ED meds delivered to your door if approved. Get started with Rex MD for ED by clicking here.
Sources
Phosphodiesterase-5 (PDE5) Inhibitors In the Management of Erectile Dysfunction. | NCBI
The efficacy and safety of PDE5 inhibitors | PubMed
Direct comparison of tadalafil with sildenafil for the treatment of erectile dysfunction: a systematic review and meta-analysis | NCBI